★ ★ ★ ★ ★ ★ ★ ★ ★ ★ ★ ★ ★ ★ ★ ★ ★ ★ ★ ★ ★

Welcome to Onwards to the Stars!!!
Hello and Welcome! ★ online! This is a photo blog by a dreamer called Life Gean.
She made this blog to share her photos and let you see her life through lenses. Follow?


★ ★ ★ ★ ★ ★ ★ ★ ★ ★ ★ ★ ★ ★ ★ ★ ★ ★ ★ ★ ★





B to the I to the G, B to the A N G~!!! I went to Big Bang Alive Galaxy Tour where Big Bang rocked the night and I got high high~ I'm so high~ coz of TOP.
Wednesday night, I rushed to the
Mall of Asia Arena
with my dear
Seoul Mates
after work. The concert started even if many among the goers weren't inside yet. We happened to be among them.
Boo
. I was hearing "
Fantastic Baby
" as we were going through inspection and it was every fan for himself/herself. I guess they were very strict with the inspection since it took so much time for people to get in but when the concert started, they couldn't hold back the people who were still outside and we were still so many! I watched the concert from the
General Admission
area which is very far from the stage and is in free seating. Since we got in so late, we ended up in the sides. I also didn't attempt to bring
Chaos
, I was afraid I'd get held up in inspection, but next time,
now that I think I have to guts to do it,
I shall. All shots here are from my
Amethyst
. I can't even tell how
frustrated
I was being limited her but I'm glad to finally be able to take beautiful shots of a concert area with lots of glowing light sticks,
I love lights~
♥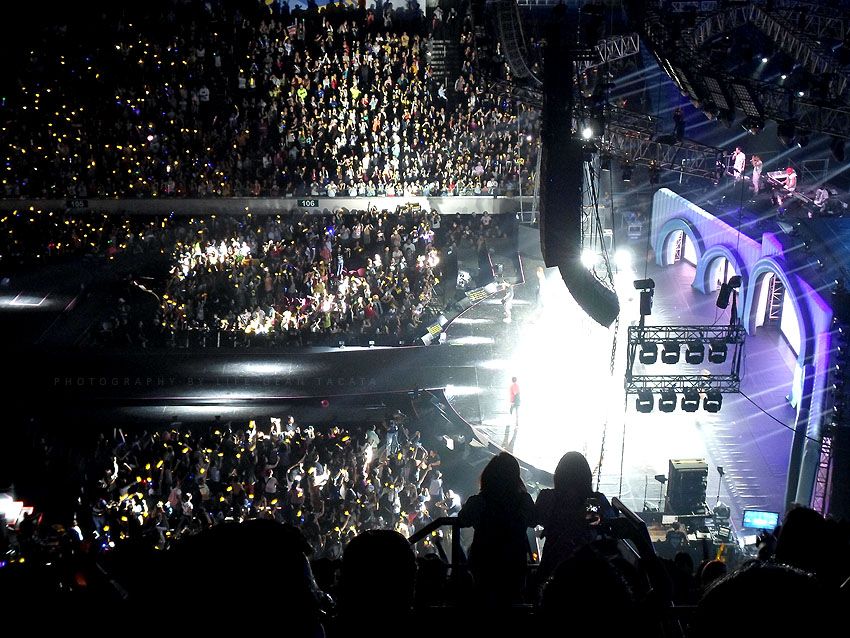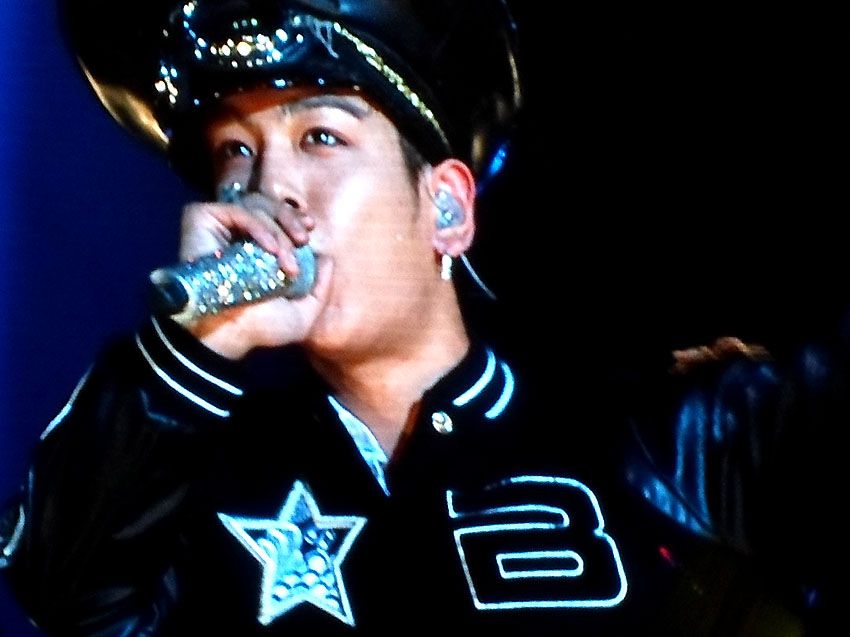 Since I'm very far from the stage, I can only share a shot of the screen! Hey TOP!



Here are some of my fancam videos! I have more in Sakura MoMo but err... Note to self: Do not freaking shout-sing your lungs out when recording fancam videos!

LEFT: A part of Taeyang's "Wedding Dress" where he rips his top off.
RIGHT: End part of the concert, it's not really the "end" but it's before the encore. I lost memory space so boo me!
I fail to appreciate it when
idol
s
rip or take their tops off
- that's usually followed by the
scream
of
fangirls
but for me,
I don't like it
. Something must be wrong with me but there are
exception
s,
true.
I'm just really not that type of a fangirl.
I'm
weird
that way and I take it that we're a pretty
rare
case so just imagine how
ironic
it is for me to upload
[121024] Taeyang - Wedding Dress (part) - Big Bang Alive Tour - Philippines
and it is the
first ever
KPop concert fancam
I've uploaded.
Enjoy~


My beautiful Big Bang Light Stick ver. 3. I may not be that a VIP but the light sticks are my favorite piece of fandom merchandise!
It was only after that day did I realize that this light stick is more expensive than my General Admission ticket for the concert. HaHaHa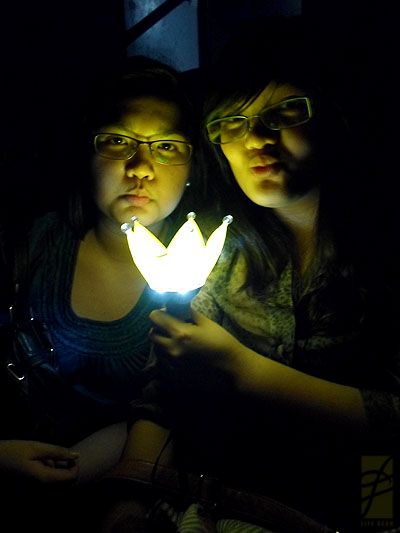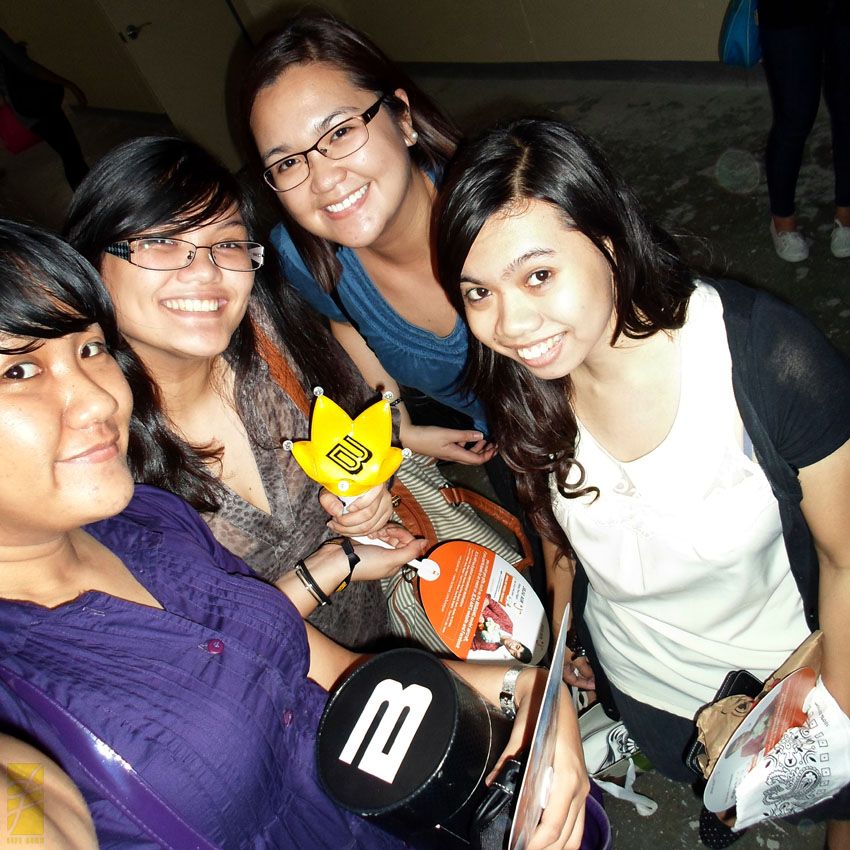 Seoul Mates ♥ Me, Bea, Tin & Jo!


As a
fangirl
ending this post, here's something I just really have to
blog
about. We had
Jeju Air
fans
(the non-living thing you use to cool yourself with, not the person) on our seats when got there and we all got
Seungri
. When we were on our way out, there were some
fans
(this time it's the living person!) asking where we got 'em. We said that we just found them in our seats and then did we realize that not every seat has 'em. While we were waiting at
Starbucks
for our friends, there were some
fangirls
who approached us. They were asking if they could exchange their
fans
for ours and
guess what?!
their
fans
were
TOP
!!!
So lucky!!!
Bea
,
Tin
and
I
are
TOP
-
biased
and there were exactly the same amount of
Seungri
-
biased
fans who wanted to exchange
fans
with us! I'm just very
delighted
about it that I had to
blog
it. After that,
Bea
would rather let me hover my umbrella over her
TOP
fan
rather than her, as if the
fan
would get sick if it got wet in the rain.
Labels: BIG BANG, CONCERT, FANDOM, KPOP, PEOPLE AND PORTRAITS, PRODUCT
Earlier today I went to a
movie
-
dinner
date
with
Paul
&
Deb
. I haven't seen these two guys for what's like
4 years
!!! They were my
seatmates
back in my
freshman
year in
college
and although we were classmates for just one semester, it's nice to hear that it felt like we were classmates for an even longer period of time.
Deb
said that he was gonna be there on an earlier time but he was late so I was forced to wait for the both of them for a few hours, on my own.
So lonely
. What's even funnier is that
Paul
arrived earlier than
Deb
did. I blame these two for my impulsive purchase of
Amethyst
, not that I regret it or anything. HaHaHa
We were supposed to watch "
Sinister
" in
TriNoMa
but since it was then only shown in
SM North EDSA
at a much much
much
later time, we opted to watch something else and we ended up with "
Looper
" - the concept of it was really interesting since it deals both the
present
and the
future
and how one affects the other but as the movie progressed, the focus got lost and revolved around a different character. I'd say it was
okay
. After the movie we had
Gong Cha
. I confessed that I've never tried any drink from
Gong Cha
and I know I must've missed of what seemed like
half of my life
or so they say so they suggested that I should go try the
bestseller
Winter Melon Tea
. I'm not that into drinking
milk tea
s on a regular basis like some of my friends do (I even know of some who'd travel to
HongKong
and still look for
GongCha
while they're there). I've already tried some drinks from
Cha Dao
,
Serenitea
and
Happy Lemon
- all of 'em had
mint
in it.
Gong Cha
doesn't have anything
mint
y
right?
Deb
ordered for me and I have no idea why mine had
pearls
while his and
Paul
's had none. I kept sucking up
pearls
for most of it but it was a tasty drink.
Early
dinner
was at
Conti's
where we enjoyed our
delicious
meals and each with a slice of cake for dessert. I ordered the
Blueberry Cheesecake
while they both had
Mango Bravo
. Their slices were ridiculously
huge
! It was a
fun-fun
day and
I miss them already
!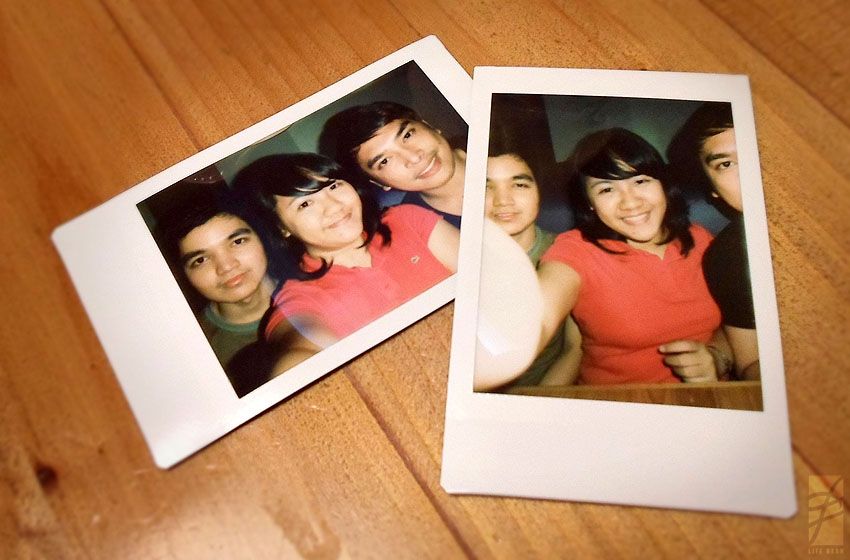 These are our cheki shots from my Eclair. LEFT: Is the proper shot of us three, Paul, me & Deb.
RIGHT: Deb pushed the shutter button too early as I was handing him Eclair so it only shows me with what I'd say, is my natural smile. HeeHee


Labels: CHEKI, FOOD AND DRINKS, PEOPLE AND PORTRAITS, PRODUCT


Finally got myself a new point-and-shoot digicam today!
I gave her the name "Amethyst" which is a precious stone.
That's based on its color and that it is a precious thing I decided to give myself.
As ironic as it may sound, it's the basic thing that I lack when it comes to cameras. I have
Chaos
, my
dSLR
,
Eclair
my
cheki
cam,
Pea
a
pocket HD video cam
~ but no simple
point-and-shoot digicam
that I could conveniently use.
That changed today
.
★~~~ Older Stars ★ Newer Stars ~~~★