★ ★ ★ ★ ★ ★ ★ ★ ★ ★ ★ ★ ★ ★ ★ ★ ★ ★ ★ ★ ★

Welcome to Onwards to the Stars!!!
Hello and Welcome! ★ online! This is a photo blog by a dreamer called Life Gean.
She made this blog to share her photos and let you see her life through lenses. Follow?


★ ★ ★ ★ ★ ★ ★ ★ ★ ★ ★ ★ ★ ★ ★ ★ ★ ★ ★ ★ ★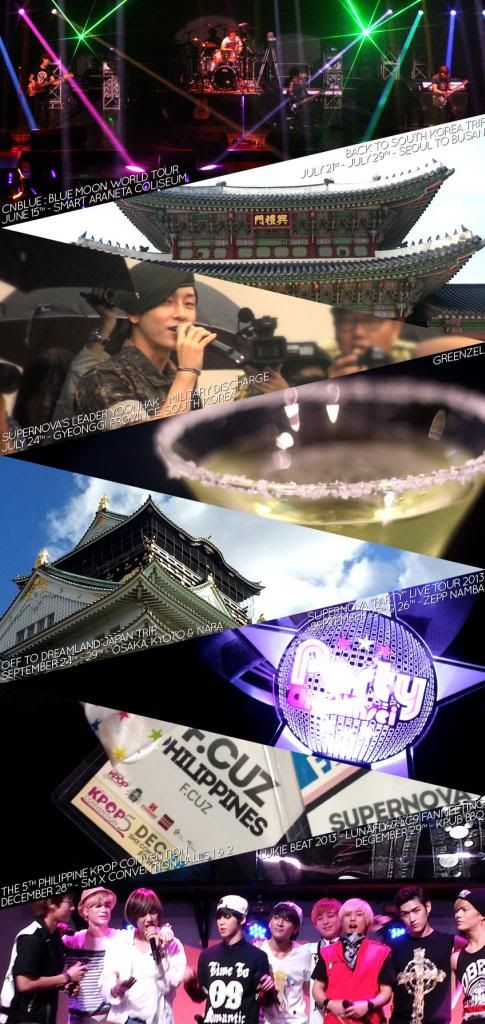 Happy New Year!!!
I am evidently alive and thus the post but I am also well-aware that I haven't made any updates for the later half of the past year. I do have a good excuse,
I've been busy making dreams come true!
In fact,
2013
would be
the best year of my life yet!
I got
promoted
in the mid-year, well actually it's just more on the
title
part
but still
. I also got to go back to
South Korea
and like out of some
fictional-fangirl-book
, I also went to my
dreamland
Japan
in the same year.
Japan
has always been my main goal and I wasn't expecting I'd be able to do it so soon so
yay~
Oh and did I mention that
I traveled alone on both trips?!
Well
I did!!!
It is something that I would have never-ever imagined that I could do but I guess
it is true
,
if there's a will, there's a way!
The
highlights
of my
fandom
life this past
2013
were (in order)
F.CUZ
(January),
Supernova
(July & September) &
Lunafly
(December). I've
met online and new friends
from
different countries
, gained many
experiences
and made lots of
memories
in the past year that I'm really very
thankful
for.
I wanted to start 2014 right so why don't we do that with this? This is a look back on the later half of year
2013
and the posts that I have not done...
yet
. Take it as a li'l sneak peek into what's about to come! This time I'll make sure that I wouldn't be gone for too long! I'll be back again
soon~
Labels: CONCERT, CONVENTION, F.CUZ, FANDOM, FOOD AND DRINKS, JAPAN, KPOP, LC9, LUNAFLY, PEOPLE AND PORTRAITS, SKY, SOUTH KOREA, TRAVEL, 초신성 / SUPERNOVA / 超新星
1 Comments:
At Saturday, February 01, 2014 5:36:00 PM , said...

I'm glad that you were able to fulfill your dream to travel in Japan. Hopefully we can go there together and watch Supernova. :D

P.S. my laptop was so slow that I thought you disabled your comment box. haha~
Subscribe to Post Comments [Atom]
Links to this post:
Create a Link
★~~~ Older Stars ★ Newer Stars ~~~★