★ ★ ★ ★ ★ ★ ★ ★ ★ ★ ★ ★ ★ ★ ★ ★ ★ ★ ★ ★ ★

Welcome to Onwards to the Stars!!!
Hello and Welcome! ★ online! This is a photo blog by a dreamer called Life Gean.
She made this blog to share her photos and let you see her life through lenses. Follow?


★ ★ ★ ★ ★ ★ ★ ★ ★ ★ ★ ★ ★ ★ ★ ★ ★ ★ ★ ★ ★





B to the I to the G, B to the A N G~!!! I went to Big Bang Alive Galaxy Tour where Big Bang rocked the night and I got high high~ I'm so high~ coz of TOP.
Wednesday night, I rushed to the
Mall of Asia Arena
with my dear
Seoul Mates
after work. The concert started even if many among the goers weren't inside yet. We happened to be among them.
Boo
. I was hearing "
Fantastic Baby
" as we were going through inspection and it was every fan for himself/herself. I guess they were very strict with the inspection since it took so much time for people to get in but when the concert started, they couldn't hold back the people who were still outside and we were still so many! I watched the concert from the
General Admission
area which is very far from the stage and is in free seating. Since we got in so late, we ended up in the sides. I also didn't attempt to bring
Chaos
, I was afraid I'd get held up in inspection, but next time,
now that I think I have to guts to do it,
I shall. All shots here are from my
Amethyst
. I can't even tell how
frustrated
I was being limited her but I'm glad to finally be able to take beautiful shots of a concert area with lots of glowing light sticks,
I love lights~
♥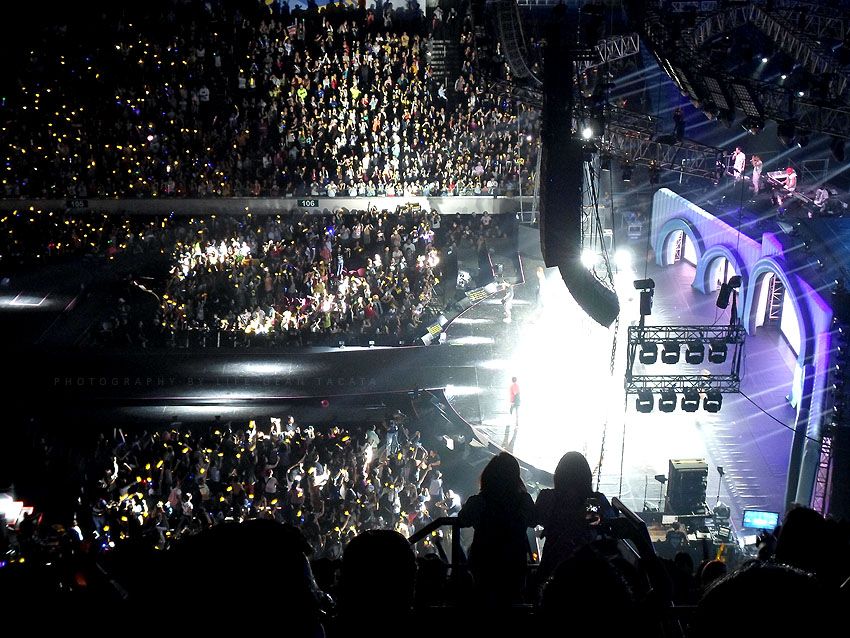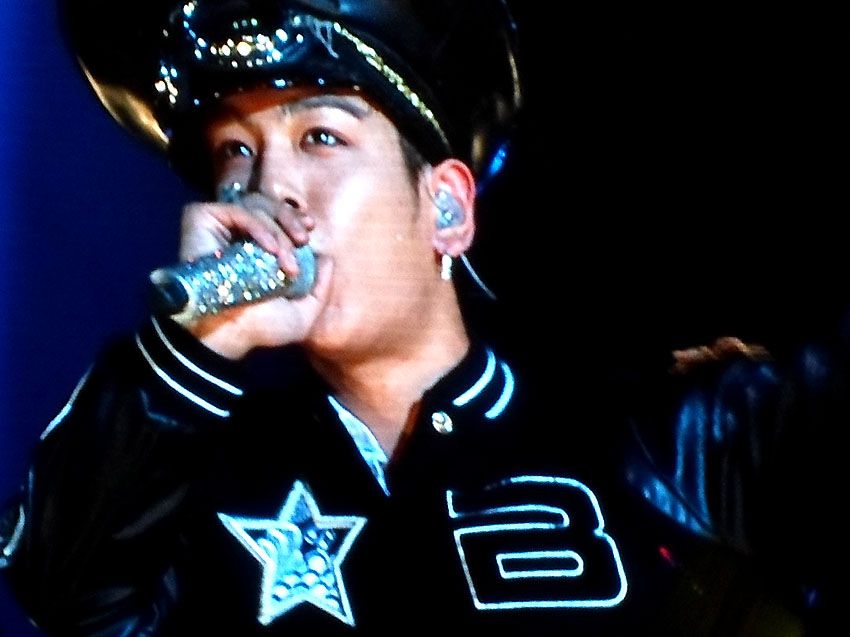 Since I'm very far from the stage, I can only share a shot of the screen! Hey TOP!



Here are some of my fancam videos! I have more in Sakura MoMo but err... Note to self: Do not freaking shout-sing your lungs out when recording fancam videos!

LEFT: A part of Taeyang's "Wedding Dress" where he rips his top off.
RIGHT: End part of the concert, it's not really the "end" but it's before the encore. I lost memory space so boo me!
I fail to appreciate it when
idol
s
rip or take their tops off
- that's usually followed by the
scream
of
fangirls
but for me,
I don't like it
. Something must be wrong with me but there are
exception
s,
true.
I'm just really not that type of a fangirl.
I'm
weird
that way and I take it that we're a pretty
rare
case so just imagine how
ironic
it is for me to upload
[121024] Taeyang - Wedding Dress (part) - Big Bang Alive Tour - Philippines
and it is the
first ever
KPop concert fancam
I've uploaded.
Enjoy~


My beautiful Big Bang Light Stick ver. 3. I may not be that a VIP but the light sticks are my favorite piece of fandom merchandise!
It was only after that day did I realize that this light stick is more expensive than my General Admission ticket for the concert. HaHaHa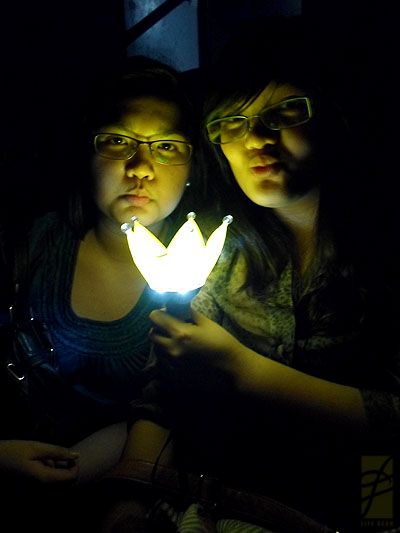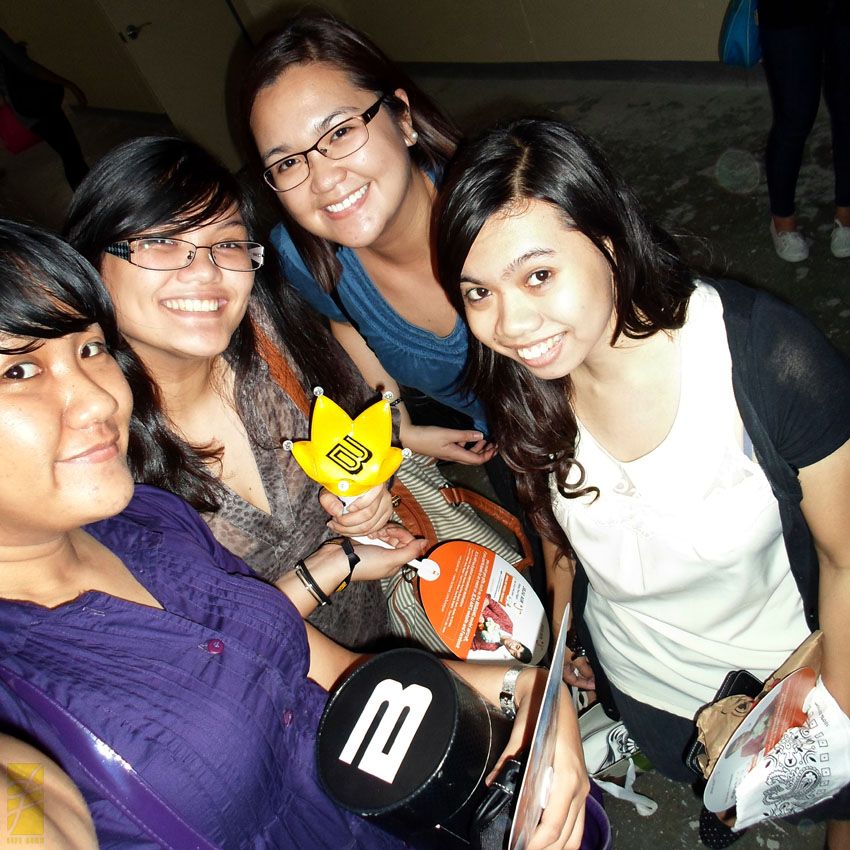 Seoul Mates ♥ Me, Bea, Tin & Jo!


As a
fangirl
ending this post, here's something I just really have to
blog
about. We had
Jeju Air
fans
(the non-living thing you use to cool yourself with, not the person) on our seats when got there and we all got
Seungri
. When we were on our way out, there were some
fans
(this time it's the living person!) asking where we got 'em. We said that we just found them in our seats and then did we realize that not every seat has 'em. While we were waiting at
Starbucks
for our friends, there were some
fangirls
who approached us. They were asking if they could exchange their
fans
for ours and
guess what?!
their
fans
were
TOP
!!!
So lucky!!!
Bea
,
Tin
and
I
are
TOP
-
biased
and there were exactly the same amount of
Seungri
-
biased
fans who wanted to exchange
fans
with us! I'm just very
delighted
about it that I had to
blog
it. After that,
Bea
would rather let me hover my umbrella over her
TOP
fan
rather than her, as if the
fan
would get sick if it got wet in the rain.
Labels: BIG BANG, CONCERT, FANDOM, KPOP, PEOPLE AND PORTRAITS, PRODUCT
2 Comments:
At Monday, November 05, 2012 10:01:00 PM , Pink`Tractorbeam said...

Wow, you saw Big Bang?! I'm jelly! I'm not a huge K-pop fan but I have to admit, I'm a fan of those YG Kids. Lalo na ni Sandara! :P Hahaha!

The concert looks like a lot of fun! And the photos you took are proof enough.
Haha! I miss your blog din dahil I have less time to blog hop these days! glad you dropped by on mine! Take care dear!

PS. your photos ROCK! :D

At Tuesday, November 06, 2012 8:06:00 AM , HOSHI said...

I did! I wasn't really about to coz I have other priorities when it comes to spending LOL and they're not my bias group but I ended up going anyway! HeeHee Oh yeah! Sandara was in PH at the time too, she toured them around Philippines! There were even rumors that she was supposed to be a guest at the concert but she didn't pop out. It sure was! Big Bang's music rocks so their concerts are like always on party mode.

Thank you, I wish I could've sneaked in my dSLR tho, I could've taken better shots, much closer ones too.
Everybody's busy with their own lives~ I understand. You too~ take care!!!
Thanks for dropping by too!!! Oh which reminds me~ I have a follow-up comment on your latest post~
...I'm off~!!!
Subscribe to Post Comments [Atom]
Links to this post:
Create a Link
★~~~ Older Stars ★ Newer Stars ~~~★